.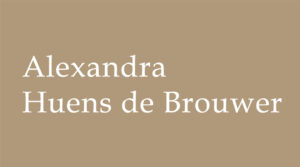 « The starting point, the source of inspiration, is most often somewhere familiar, an everyday scene.
I begin by removing any socio-cultural connotations from it in order to develop an objective composition, a simplified reality.
So, I flatten large areas to modify or hide those points of interest that attempt to subject our gaze to certain commonplaces (first reading). Once this initial work has been done, I give free rein to the artist's subjectivity, free to nourish the composition by fixing my attention on details of the real (that please me or that arise, like a bird creating a new, opportune diagonal).
This artistic recomposition anchors my work between the real and the idea, between the figurative and the abstract."
Alexandra HUENS DE BROUWER

Alexandra Huens de Brouwer could have made her own the definitive sentence of Picabia who, understanding that we were entering into the era of mobility affirmed, "There is nothing more dead than a sunset when it is painted ."
Born in Transylvania, Alexandra Huens de Brouwer studied photography and painting in its Academy of Beaux-Arts, before exiling herself to Linz and Marseilles to broaden her training in new media: cinema and digital animation.
She acquired a love of drawing, of line, of detail, a love of composition and colour.
And there, she built her practice or, as we should say, practices, because Alexandra Huens de Brouwer is one of those artists who admit no limitations on their work.
No limit in her eye, which embraces both the wide-open fields of landscapes yet also scrutinises the sometimes-imperceptible detail or tenuous movement that bemuses the vision, disorientates spaces, metamorphoses objects and transgresses plans.
A tiny detail of a fleeting movement that, indelibly inscribed into the canvas and out of proportion, becomes the keystone of the composition.
Through her painting, Alexandra Huens de Brouwer leads us to feeling incredibly alive. And it is no longer a window, a village, a subject that shows through in the canvas, but a theatre of forms that comes to life, a melody and an effervescence that carry us away in a dynamic of communication.
Thus, in Aurige, in English, Charioteer, in ink and watercolour on paper, the viewer is transported by lines that traverse the canvas, magnetised by the flat colours of an animated chessboard which too rides to the rhythm of the obliques that split and punctuate a rigorous and tonic composition.
Alexandra Huens de Brouwer has this ability to translate the symbiotic relationship between an individual and the universe surrounding them.
In Le Danseur (The Dancer), which takes up themes dear to Fernand Léger, the choreography is one, orchestrated staging covering the entire space of the canvas.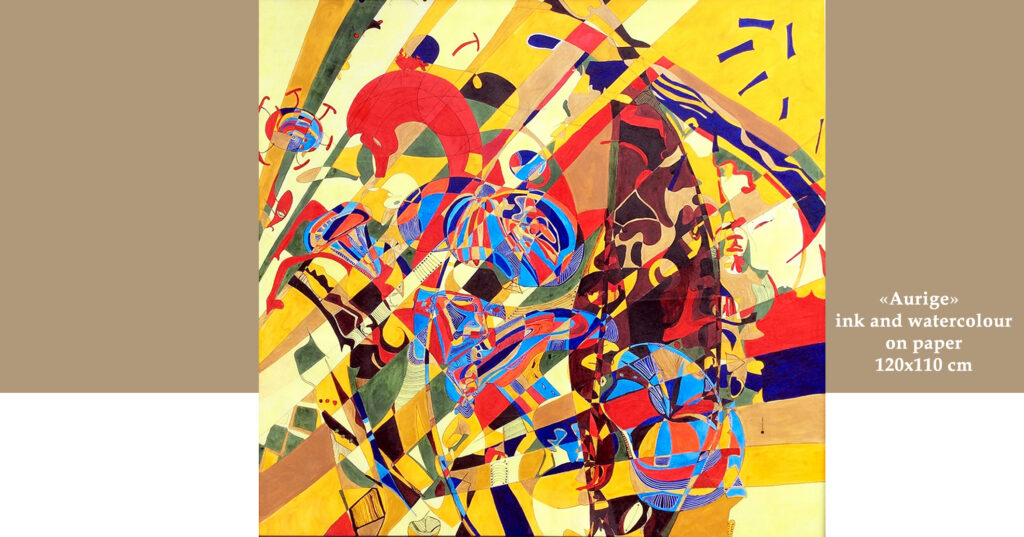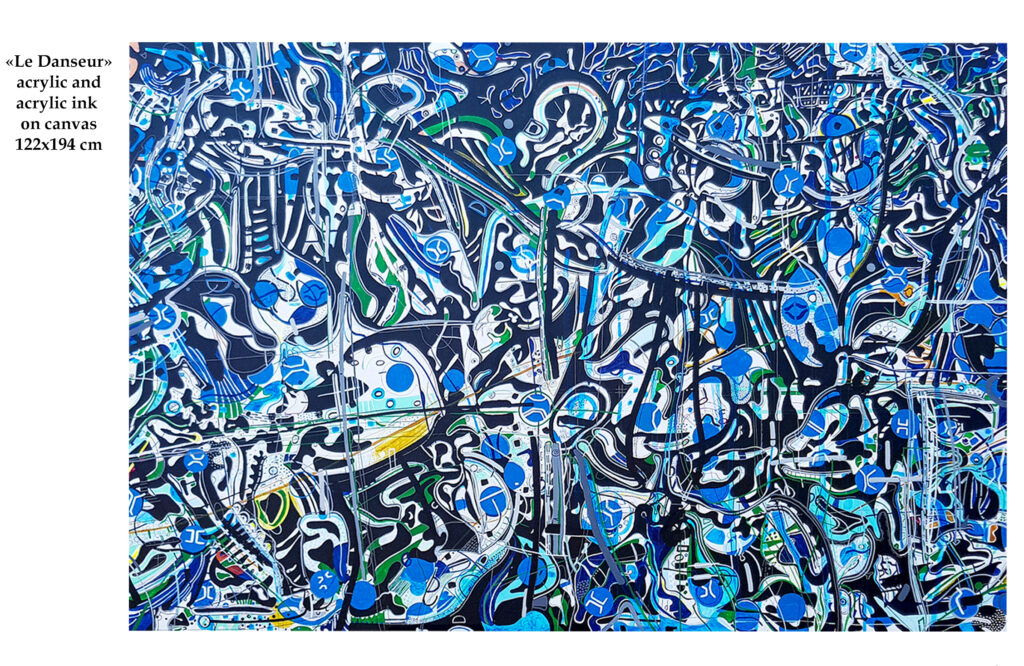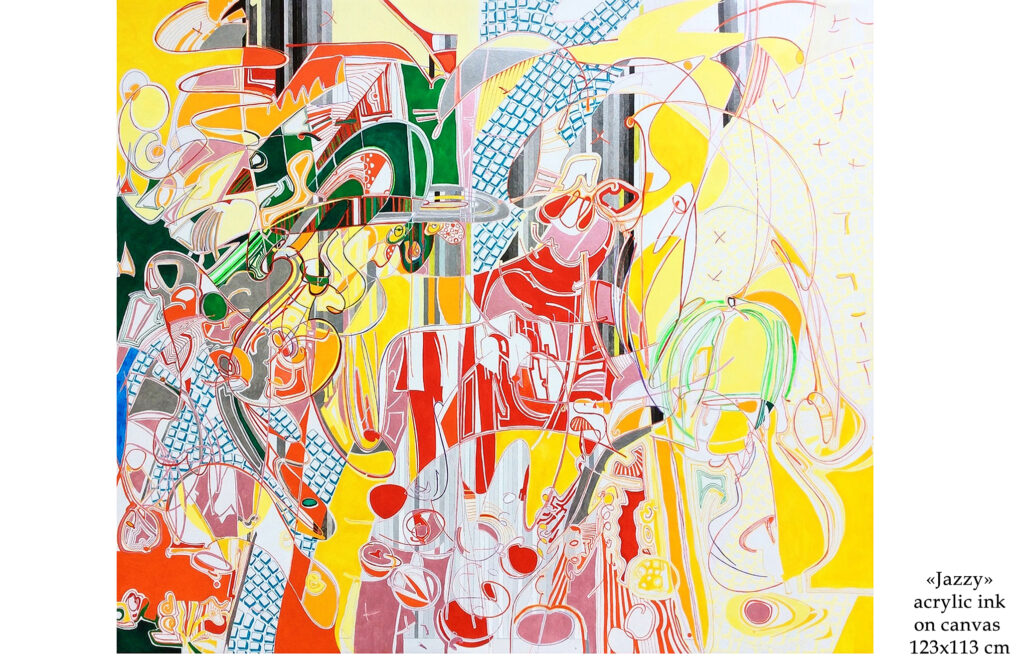 For this artist, art has that need to paint the emotions and, even more, what Kandinsky calls an "ambience".
The catchy melodies of Jazzy or the effervescence of the chromatic scores taken from Saïgon crazy night reveal this ambition of Alexandra Huens de Brouwer's painting to confine to the meeting of the arts, whatever the medium or technique that she uses.
Alexandra Huens de Brouwer's works bear witness to very different "readings", as she calls them, which sometimes lead to analytical or, contrariwise more spontaneous decoding. However, drawing, colour and composition call out to one another throughout her work, responding each to the other to the point that their dialogues take precedence over the conscious will of the artist.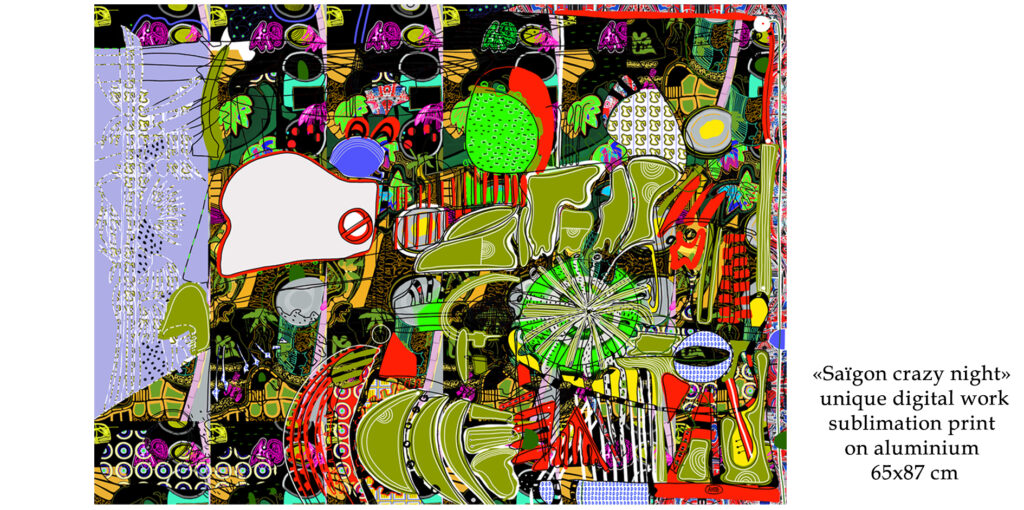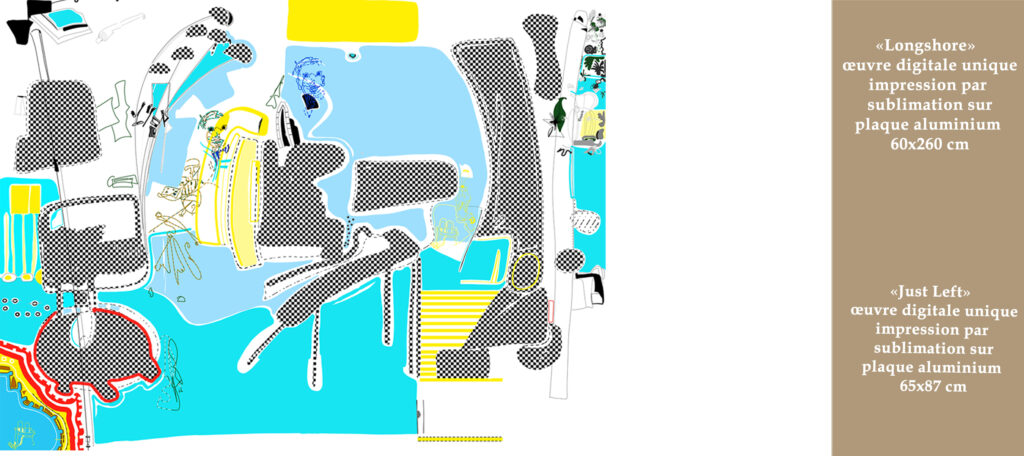 In her drawings, the sensual nudes, Alexandra Huens de Brouwer summons reminiscences of the radical expressionism of Egon Schiele or Otto Dix, while her carefully-structured landscapes recall the fine detail of Dürer's engravings.
Alexandra Huens de Brouwer is a travelling artist who tolerates no limits. Thus, she works in a creative field on the use of new forms of graphic expression. Tablet painting offers her the opportunity to go even further in her taste for line, detail, colour and composition.
Longshore, a digital creation translated into a quadriptych on aluminium plate sees, as if on a score, moving forms and intertwining lines adjust to a Mallarmean tonality.
In Just Left, Alexandra Huens de Brouwer puts the opportunities provided by digital creation to good use, to create a veritable narrative presence to her characters, to tell us in the circumscribed space of the work, recomposed plans and the evolutions of the character over a long temporality that is no longer that of the instant. In this way, the canvas becomes the place of a memory in action, of a living presence.
1 – Francis Picabia, Caravansérail, éditions Belfond, 1924.
Valérie Toubas and Daniel Guionnet, founders of the magazine Point contemporain and independent art critics, February 2022